Annual Honey Tasting Party!
Annual Honey Tasting Party!
The golden hours of photography are in the morning and evening when the sun meets the earth in a warm hug. No matter the subject the light engulfing it is magical. Rory calls this golden light "pixy dust" and tries to catch it in her hands. I wholeheartedly agree. It is the time of wonder and imagination that twinkles in flits and glimmers, challenging us to chase it and catch it in our lives.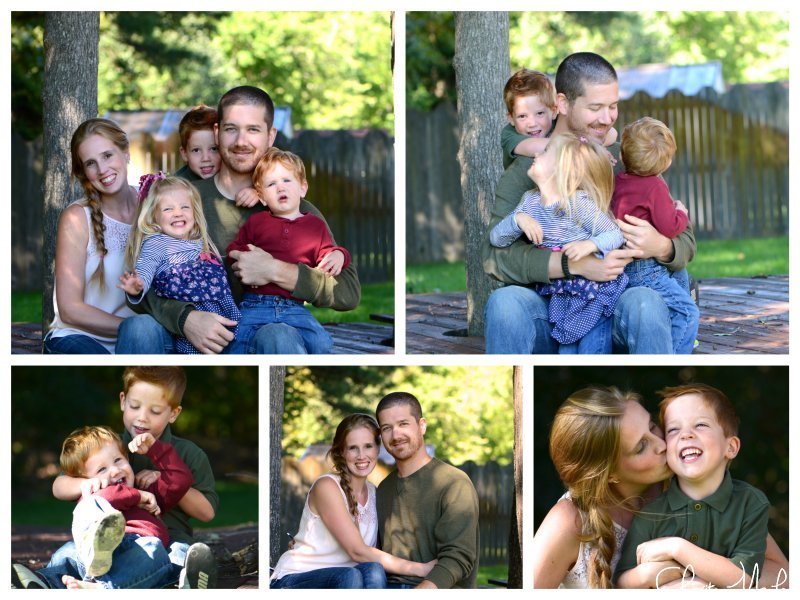 Honey is a similar God-given twinkling-golden wonder, but the difference is you can taste it!
Held in perfectly constructed hexagons and capped with a seal of approval from creatures that know exactly what they are doing, honey is "golden hour" goodness caught in a jar. The parallels of life often excite me. They bring unity and community to what could otherwise be a lonely existence. Like the golden light meeting the earth, the honey that is revealed from the comb is heavenly. Like the community of bees who made it, I find the community of friends the best way to enjoy it.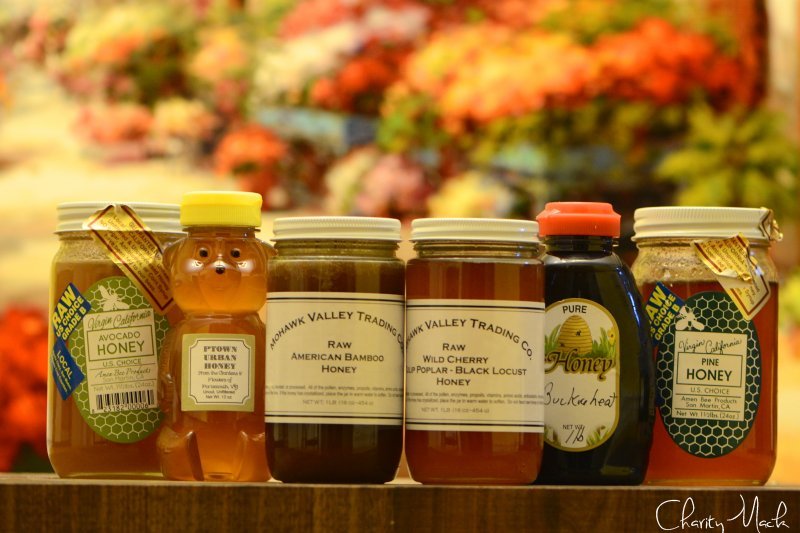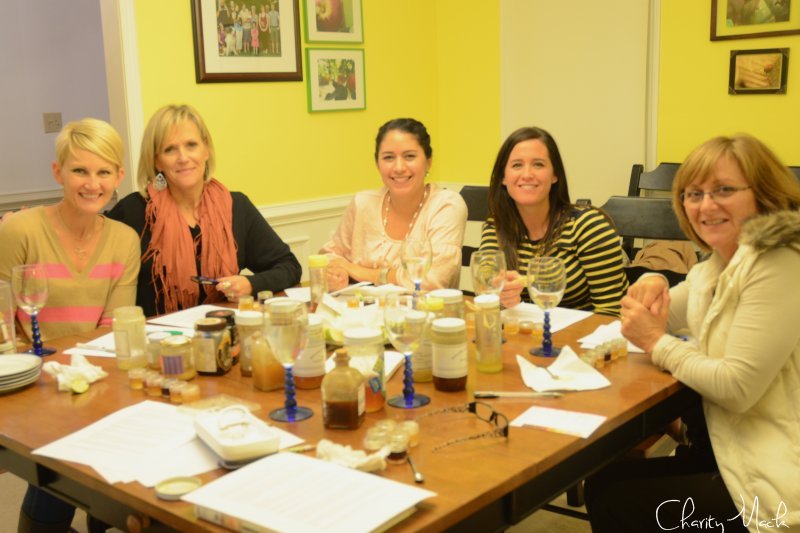 Honey tastings bring this brightness in fun-friendship-filled-golden-goodness. We ate salad with chicken that was marinated in a wildflower honey and drizzled with honey-mustard vinaigrette. A cheese plate filled with granny smith apples, to cleanse our pallets, and three world-class cheeses from England, France, and Italy were extravagant and diverse pairings to the honeys on the table. The challenge of the night was picking our top three honeys of the six honeys served: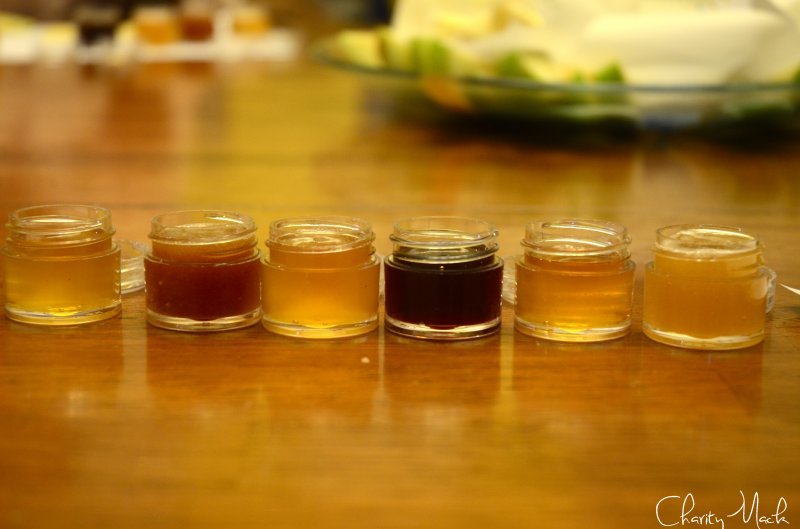 Our third place winner came from the apiary of my first hive opening experience with Mr. Leif Berner. "Mmmm! Like warm rolls at dinner with butter and hints of cinnamon," described my dear friend Anita, as she slowly hummed through her mouthful of honey. PTown Urban Honey is a subtle wildflower honey with hints of fresh butter, vanilla, and toffee. The bees from Mr. Berner's apiary are creek-side and the influence is intriguing, think salted caramel.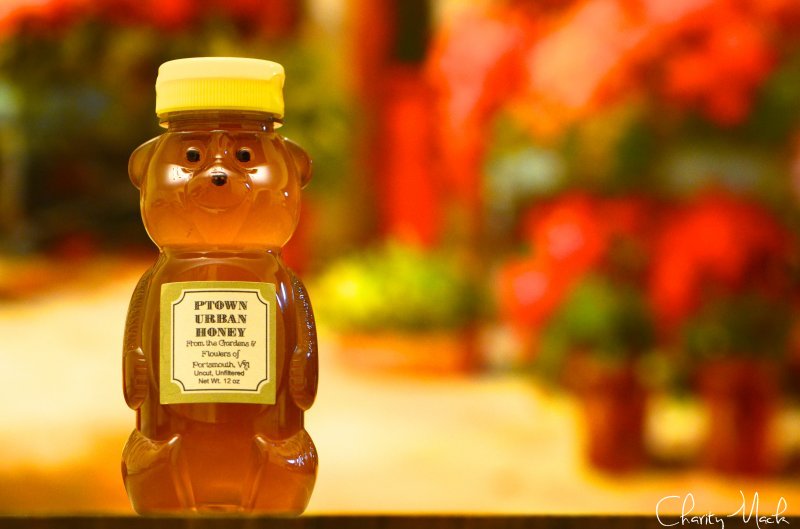 3rd Place Winner!
Wildflower
PTown Urban Honey, Portsmouth, Virginia
Wildflower honey, also known as polyfloral honey, is derived from the nectar of numerous species of flowers or blossoms. The taste, aroma and flavor will vary from season to season, depending on which flowers are dominant at the time the nectar is collected.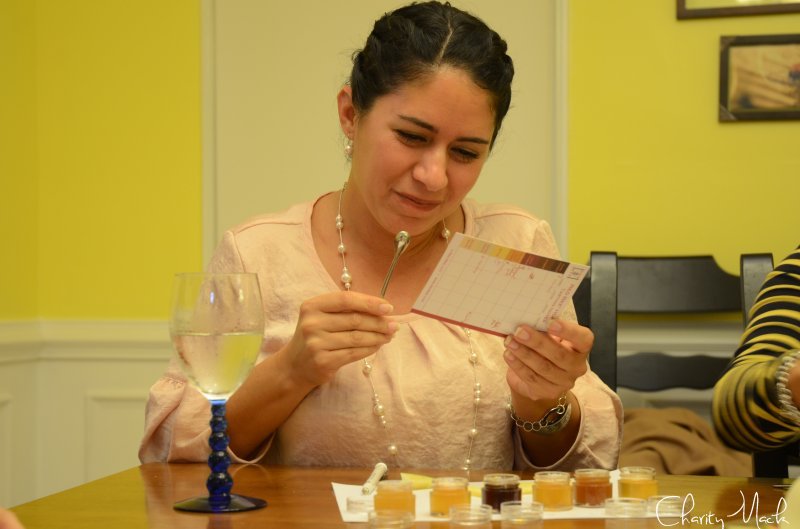 Our second place winner is from Mohawk Valley Trading, Co. "Apple cider!" "Brown sugar!" "Oh-my-lanta!" We all giggled at the last exclamation of delight as Angie nearly melted like warm caramel taking scoops of the amber honey. Her smile turning with such satisfaction we all retreated back to sample that honey again and again. It was now he one to beat.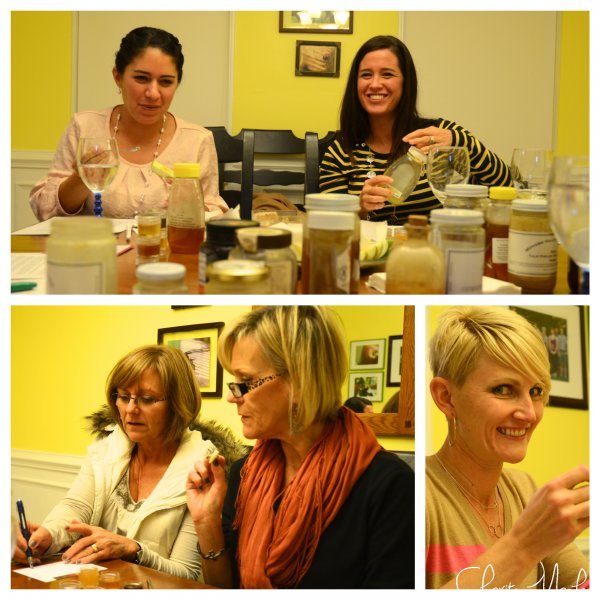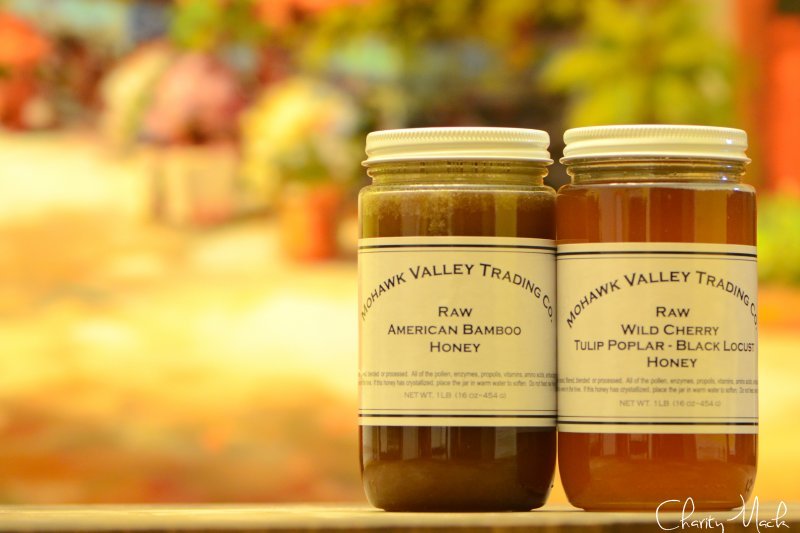 2nd Place Winner!
American Bamboo Honey
Mohawk Valley Trading, Co. Utica, New York
The flowers are small, cream or white, blooming in late summer and early autumn. American bamboo, is a large, herbaceous perennial plant native to Eastern Asia, Japan, China and Korea. American bamboo is of the family Polygonaceae, and is related to buckwheat; hence the honey is very similar however not as intense. From mid-late August through October, hives are on both slopes and the surrounding area of the Southern Kuyahoora Valley & Central Mohawk Valley regions of Upstate New York.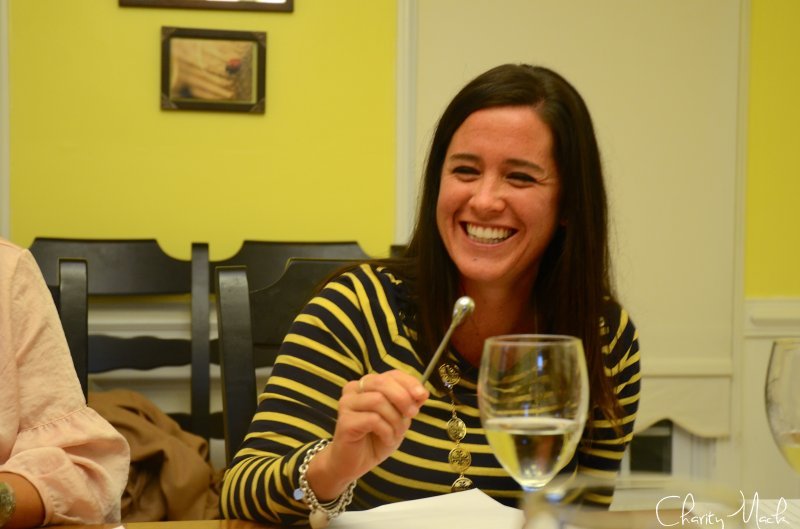 Our first place winner is also from Mohawk Valley Trading, Co. A floral honey that we couldn't verbally describe because our mouths were shut "Mmmm-ing!" and "Yummm-ing!" its deep flavors. "I love it! The best!" they exclaimed. Rich with complex notes of floral meets warm raisin-butterscotch. Its white color is deceiving, like warm summer raindrops that soon show the complexity of a rainbow through their delicate orbs, the wild cherry honey continues to reveal layers of flavor as it moves across the tongue. Lemon and holiday spices come to mind as the hints of brown sugar mix between.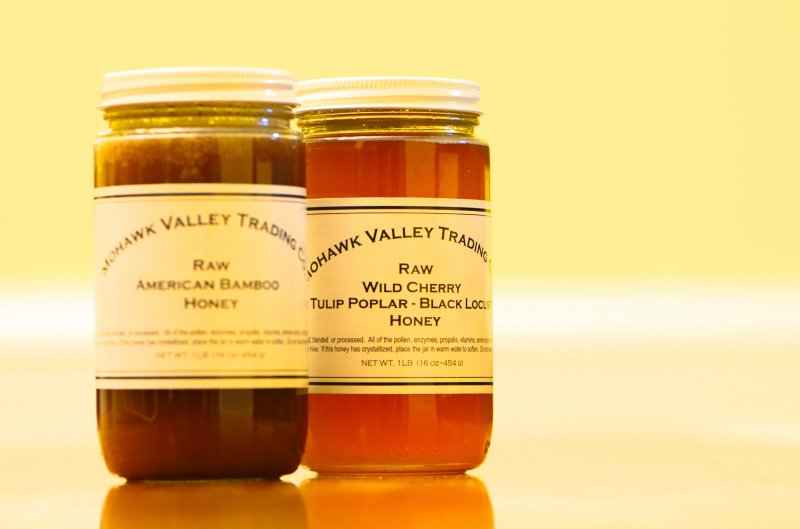 1st Place Winner!
Wild Cherry Blossom Honey (Tulip Poplar-Black Locust)
Mohawk Valley Trading, Co. Utica, New York
Wild Cherry, Tulip Poplar and Black Locust trees bloom about the same time. Wild Cherry dominates where the hives are placed. Wild cherry is native to North America and the fruit is often used instead of sweet cherries (Prunus avium) in recipes for a sharper taste. The wood is prized by woodworkers and is also used for cooking and smoking foods, where it imparts a distinctive flavor. The tulip poplar is a large deciduous tree also called "tulip tree" for its large flowers that somewhat resembles tulips; however it is closely related to magnolias rather than lilies, the plant family to which true tulips belong. Black Locust flowers are pollinated by bees and hummingbirds and although it's blooming period is short (about 1 to 2 weeks), it is a major honey plant in eastern USA. Black Locust is one of the heaviest and hardest woods in North America, is resistant to rot and very durable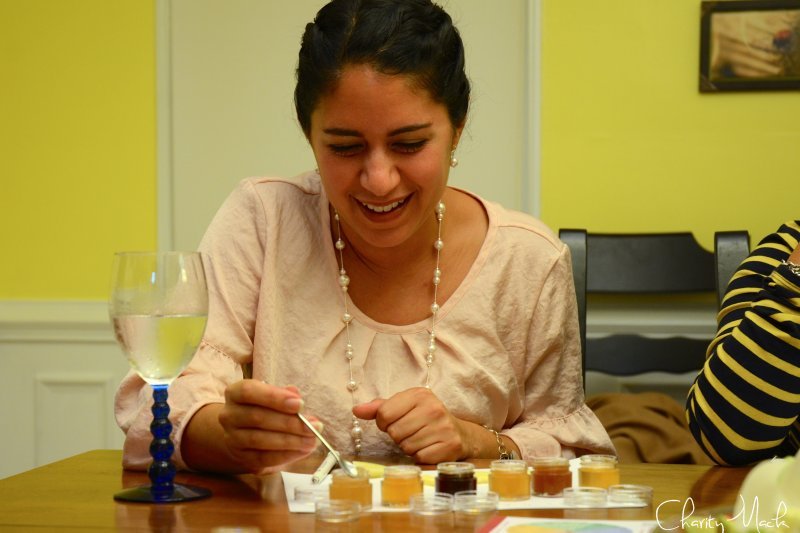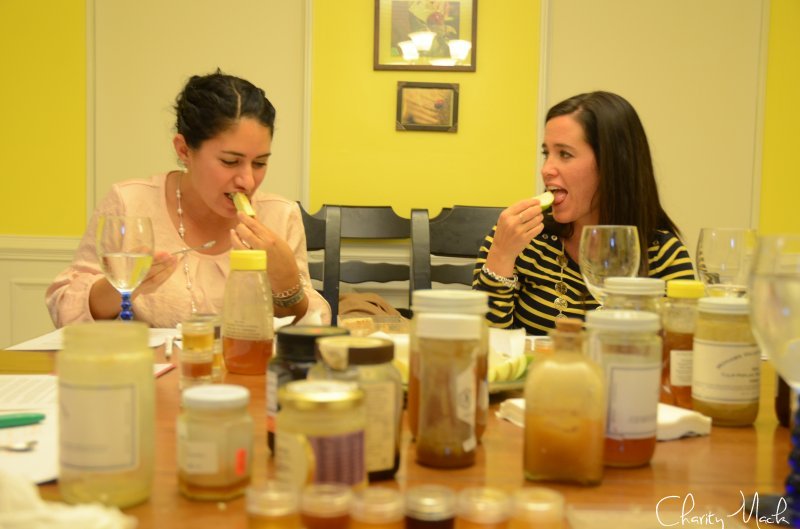 We finished out the night with Wild Cherry Blossom honey crème brulees that we bruleed (fire torch!) to smooth, crunchy, candy perfection on top and silky, creamy, cool custard below. Because what's better than honey straight from the hive? Honey engulfed in custard perfection!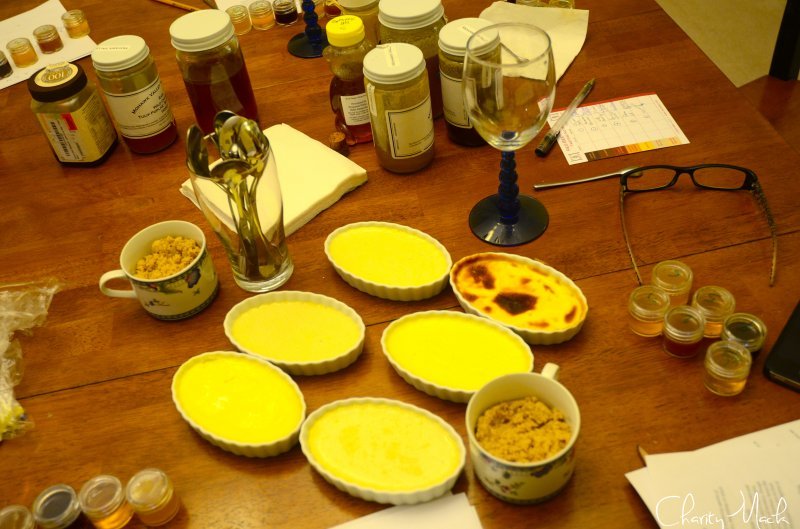 Mini Macks Honey Crème Brulees
Printable Version Here
¼ cup of honey (or sugar if that is your preference). We used the 1st Place Winning honey, Mohawk's Wild Cherry Honey.
2 cups of heavy cream
4 egg yolks (no whites!)
½ vanilla bean halved and scraped
1-2 tbsp. brown sugar for each brulee
Six 4-6 oz. shallow ramekins
9×13 baking dish
Tea kettle of hot water
Aluminum foil
Preheat oven to 300 degrees.
Combine honey and egg yolks in a bowl.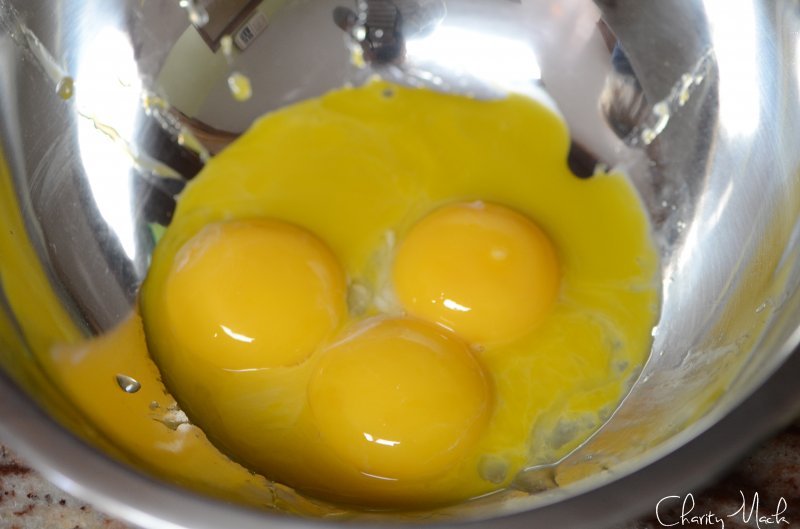 Heat vanilla and cream until simmer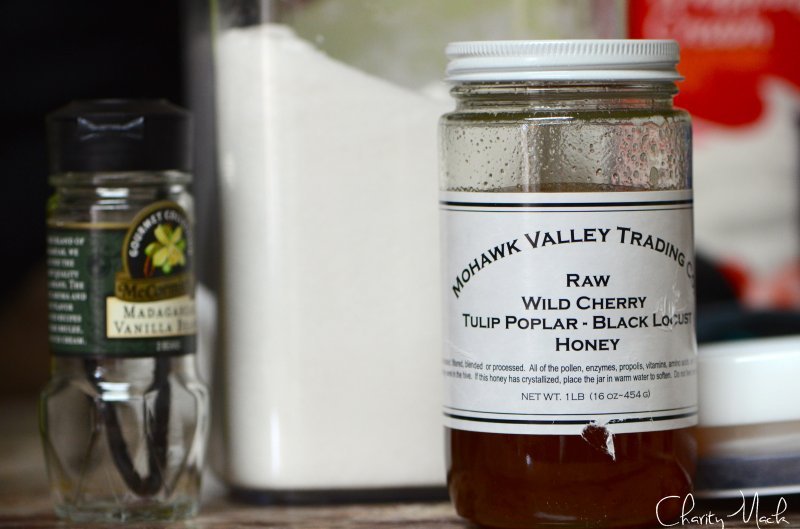 Temper milk mixture into egg mixture (a little at a time. Too fast will scramble your eggs).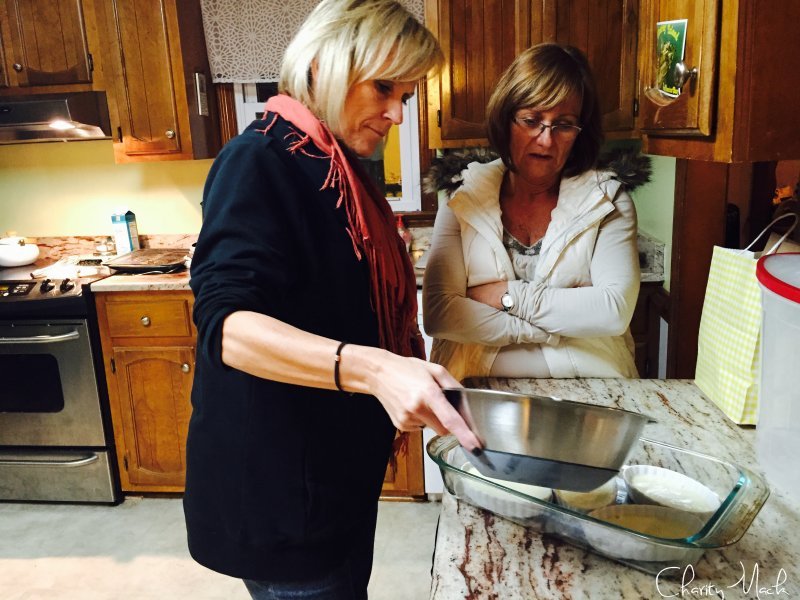 Put combined mixture into six ramekins that are sitting in a hot bath of water in a 9X11 pan.
Cover tightly with foil
Bake for 30 minutes
They should come out jiggly and not water-wavy. Let cool on counter for 30 minutes and then cover and chill in fridge for 3 hours or up to three days.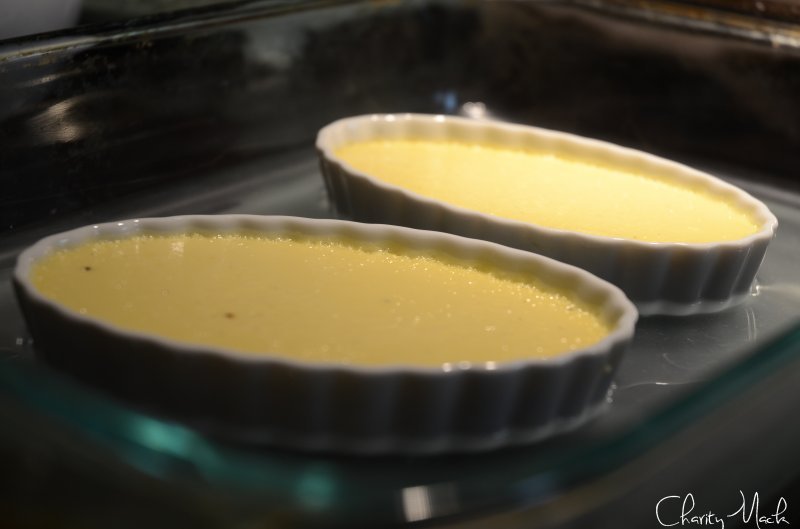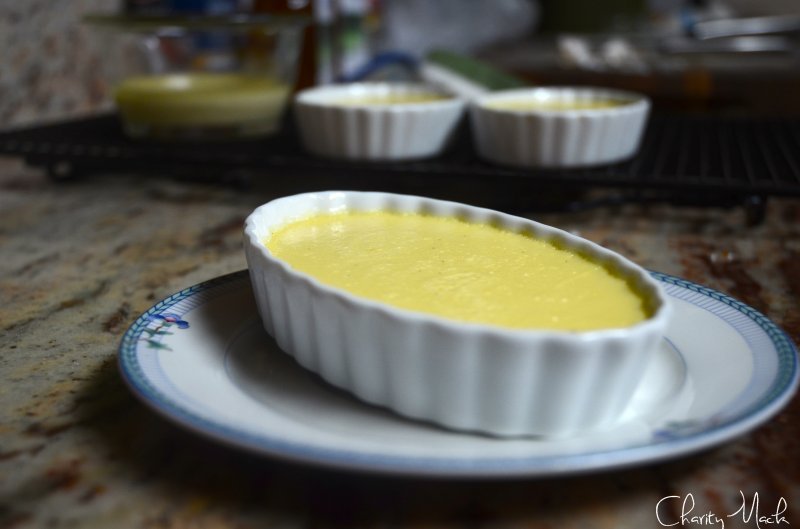 When ready to eat, cover each crème brulee with 1-2 tablespoons brown sugar and brulee with fire torch (so fun!).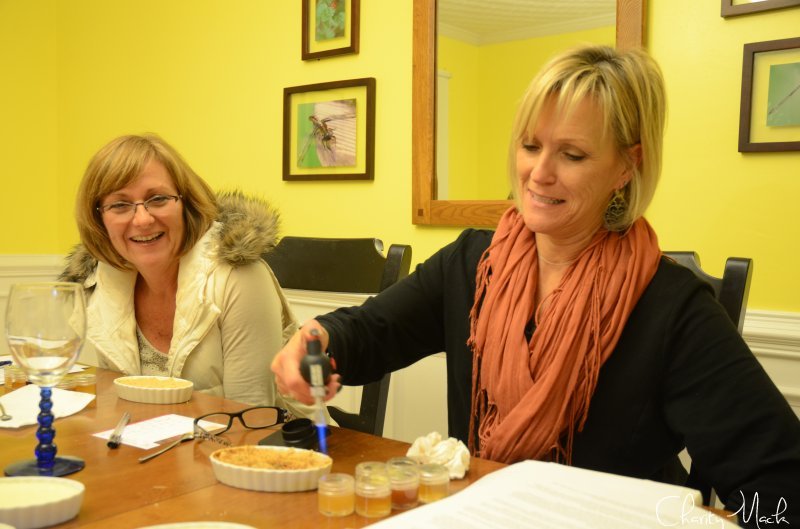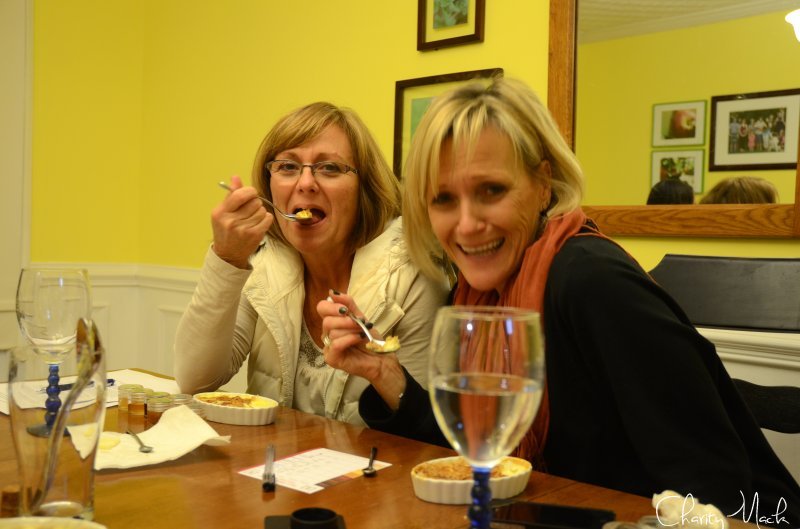 Bon Apetite!