Cooking with Rory
Cooking with Rory
The Menu:
Italian Wedding Soup
Potato Kielbasa Skillet
Homemade Strawberry Frozen Yogurt
When I was a kid I remember sitting on the same counter my kids currently do. Then it was my Nannie's, my mom's mom. I pushed the same wooden chair to the cabinets, hoping to find a shift in her warm and busy kitchen. She'd hire me from time to time, but only if I listened very well. Timing in cooking is everything and a good sous chef can greatly help or hinder that mission.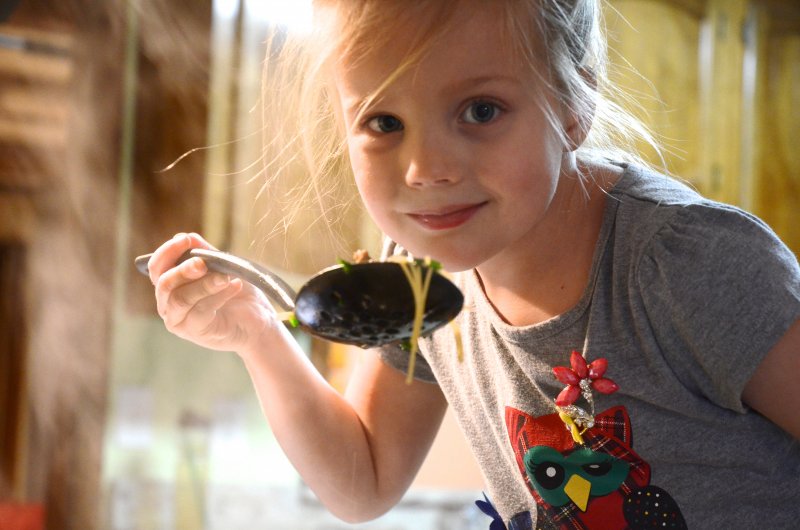 I would roll out the dumpling dough to a 1/4 thickness, with the same rolling pin I have today. Patting extra flour over its wooden cylinder, careful not to let the dough stick under pressure. Back and forth, an edible play dough, it stretched before me. Using a butter knife I would slice strips wide to the length of my finger. Nannie would then come by, cut the strips in three inch lengths, carefully carry them over to the boiling pot of chicken stock and carefully drop them in one by one. The smell of the homemade chicken and dumplings boiling in that big brown pot still lingers in my memory today, I swear I can smell it sometimes when I am cooking at the very same spot in which it once boiled. Nannie's sure stirring guiding it to perfection.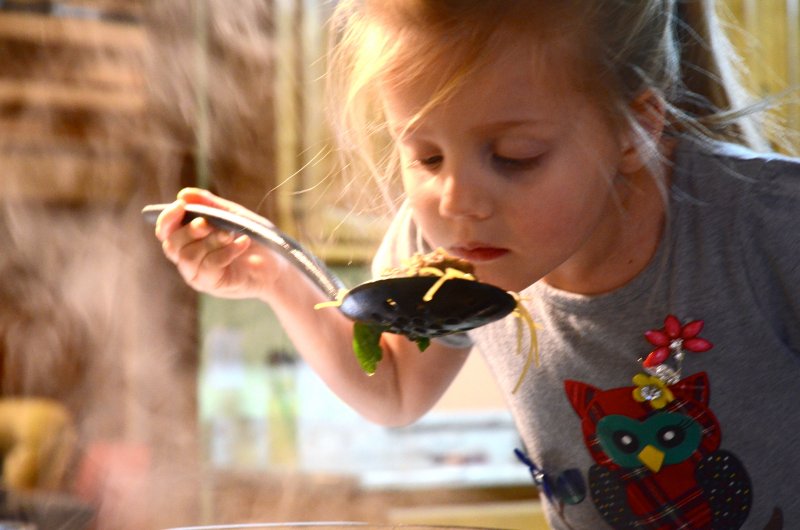 When Rory asked if she could lead the cooking a few nights last week, I figured why not. She has pushed her fair share of wooden chairs to the counter. Listened intently to instruction. Wielded a dull knife or too. I suppose nearly five years old is high time a kid can use a knife that could take their finger off, stand in front of frying meatballs, and test "al dente" of a potato over a hot skillet.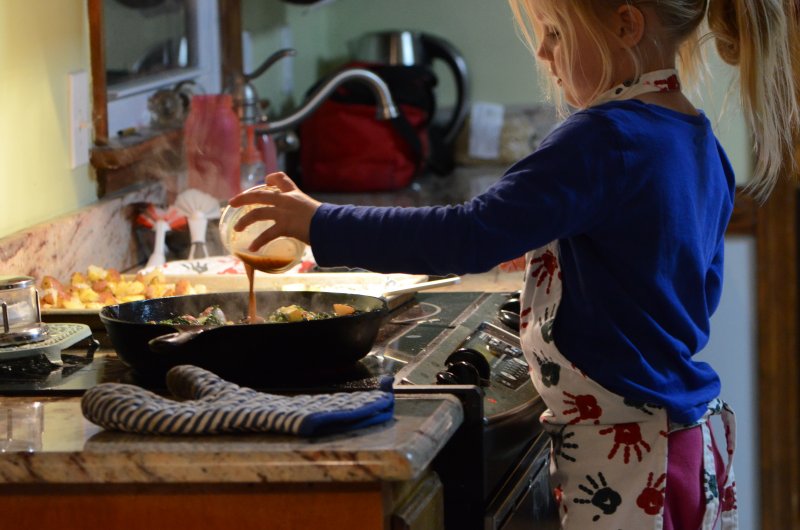 She did beautifully! Meatballs were mixed gently by hand, swirled between palms, and evenly rounded to uniform balls ready to be fried up. I, her sous chef, assisted with the hot oil, hot ovens with golden brown potatoes, and heavy pots from stove to table. She gathered ingredients and counted off measurements. Carefully took tops off strawberries and diced them in preparation for ice cream. When her hands tired, she elected the help of ninjas passing by who faithfully finished the tasks as she moved on to other demands.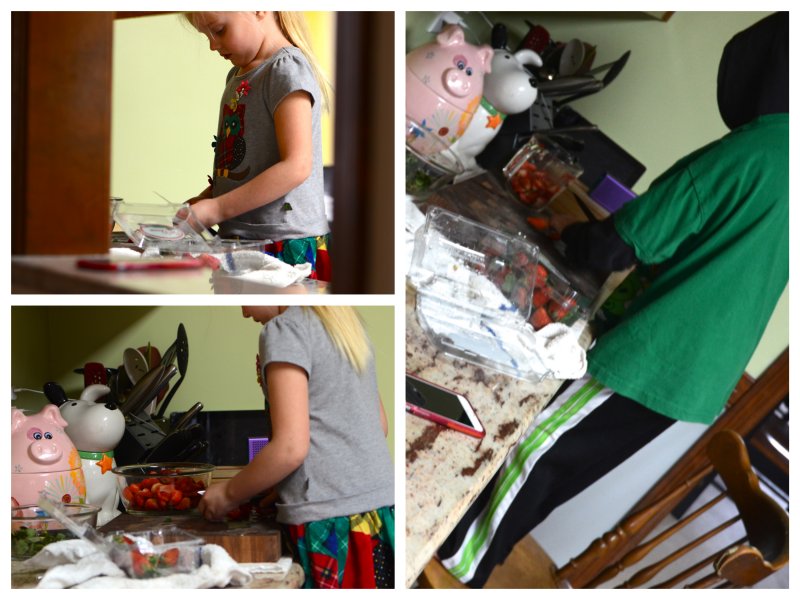 Her chair was swiftly pushed from one prep station to the next. No time to watch water boil, her chosen recipes were coming together! The meatballs were browned with a mouth-watering crispness on the outside and tender inside. The broth awaiting their plunge where noodles and spinach met their mates. One dish done! One dinner well received!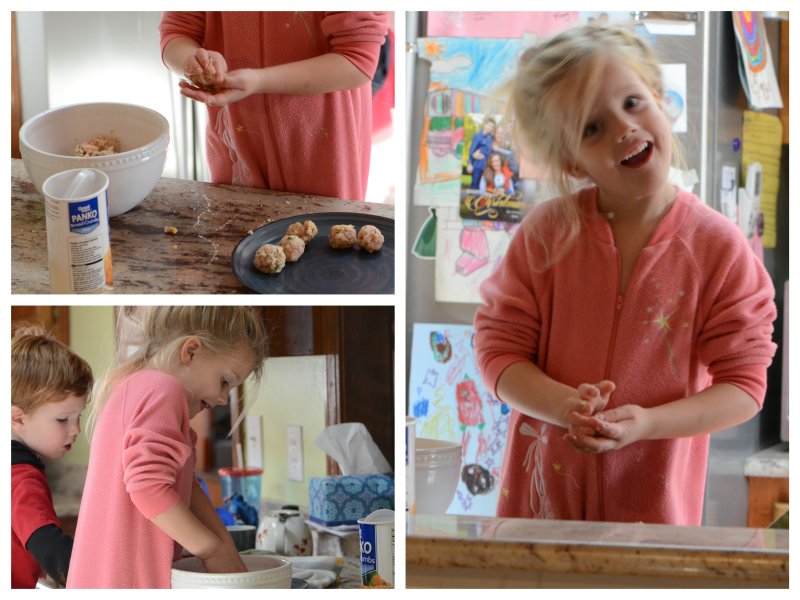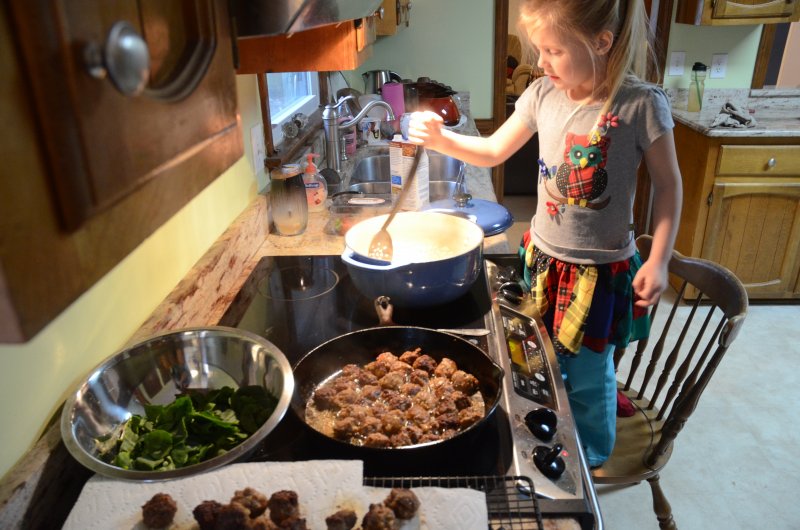 For the sausage skillet dinner, Rory felt an audience would benefit from the experience. She dialed up her cousins, Teagan and Savannah, in New York. Getting the right angle with the FaceTime screen, she was in action with real time knife skills. Only pausing when her aunt Michal yells from the background, "Hey Charity…Cody has a knife too…!"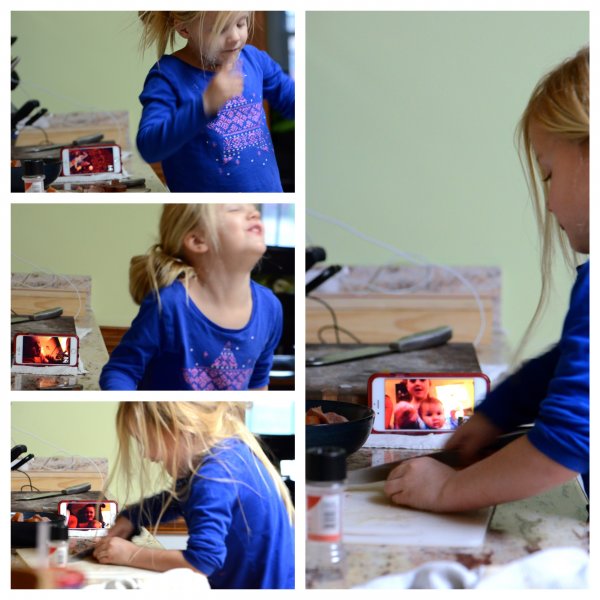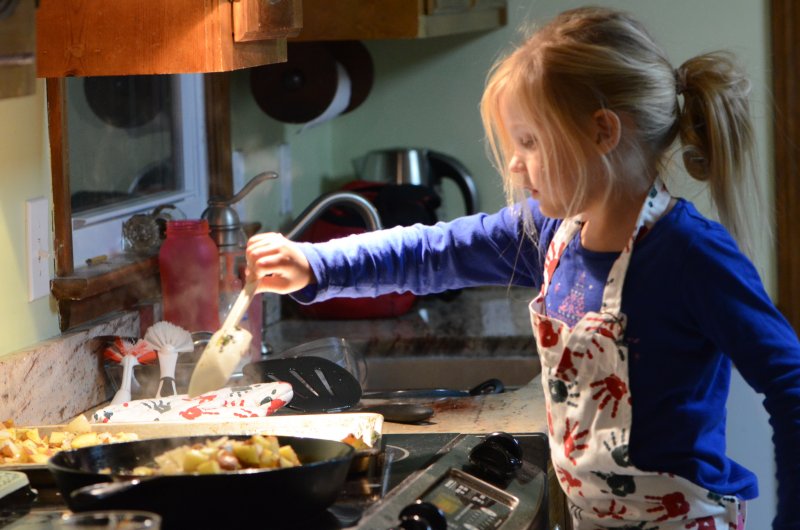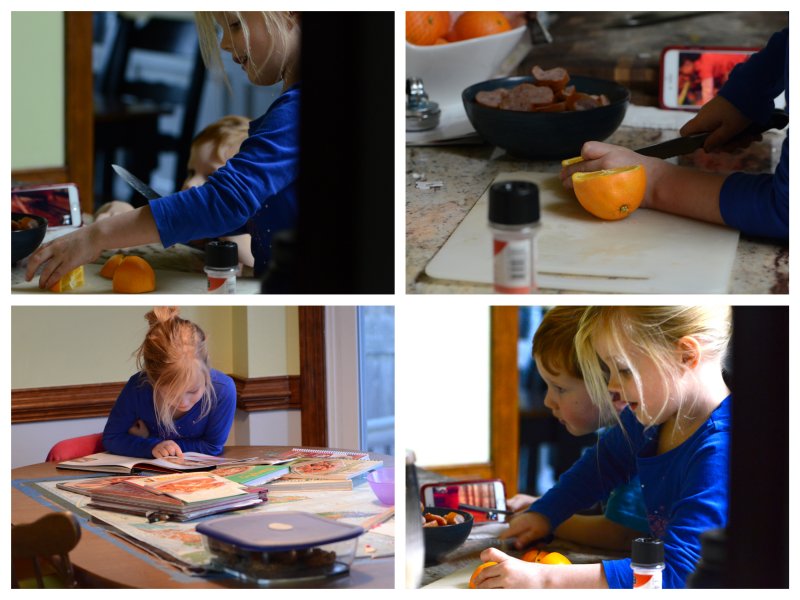 Once knife was removed, Cooking with Cousins resumed. Golden potatoes hot from the oven jumped into a sizzling skillet of perfectly cut sausage rounds warming up with fresh spinach. A zippy vinegar and mustard sauce drizzled over the skillet pan party. Perfection! Second dish done! I was gently informed by Rory's biggest fan, Ryder, that, "Mom…I, um, don't mean to offend you… but, you, um. Rory should do all the cooking. Spinach isn't so bad when she makes it." Sure thing, I'll take it! I am the sous chef, the dish washer, the recipe reader. Rory's skills make it all the better.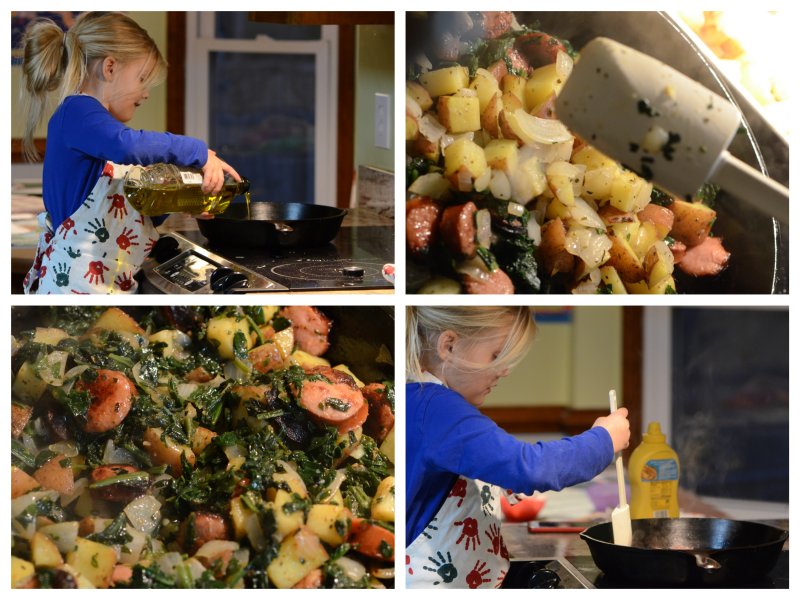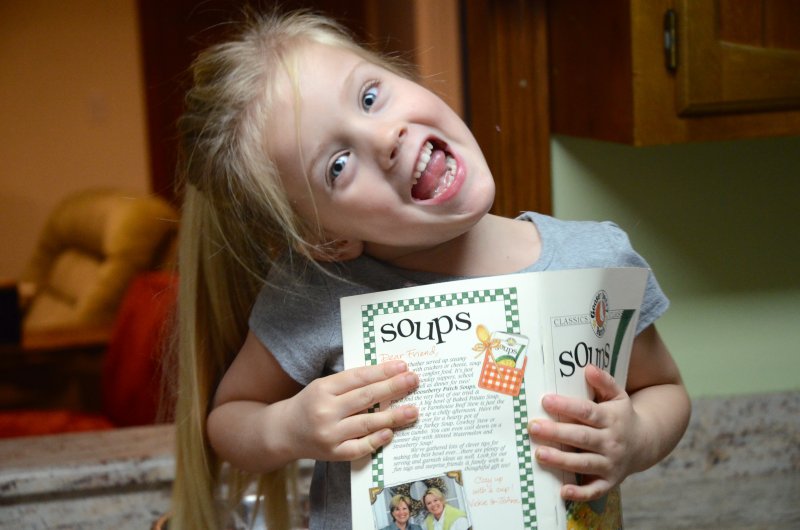 Alas, the third recipe didn't time right for the evening meal. Homemade strawberry frozen yogurt takes time and patience. What better way to enjoy the process than with her sunshiny cousins, Elliot and Mila. Mila took her new role very seriously. Donning an apron, her own chair pushed tightly to the counter, taste-tester-extraordinaire was her game. Approval was gained and Rory was delighted. The mixer whirred in the beautiful pink slush, engulfed by ice and salt. Rory was careful not to let the various levels mix.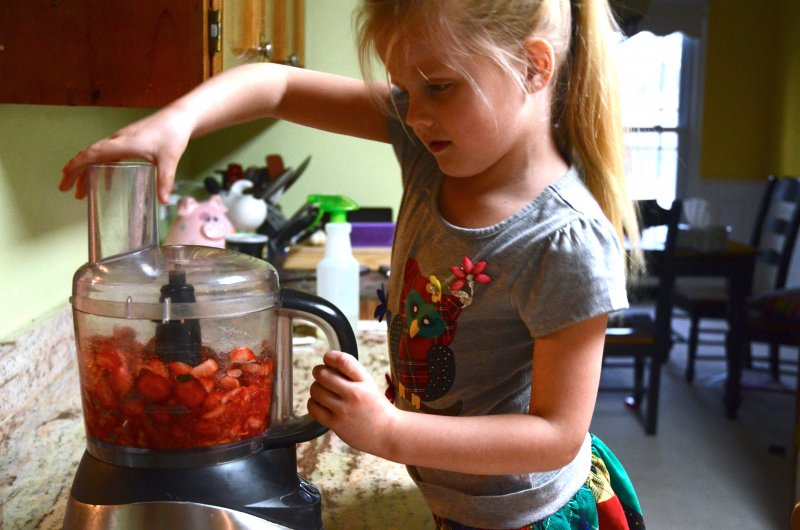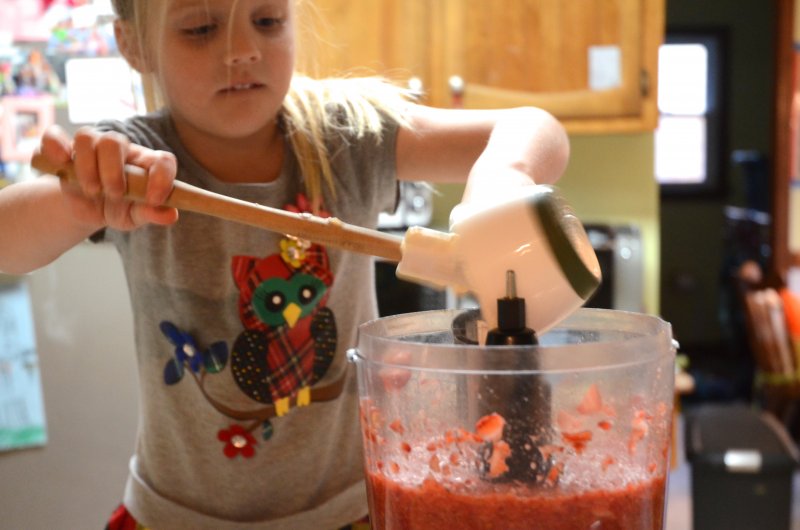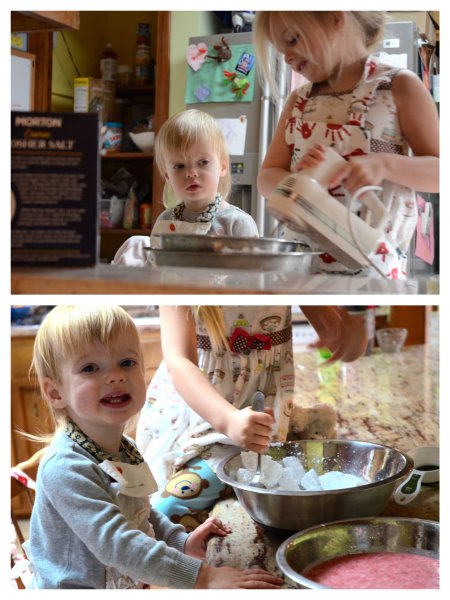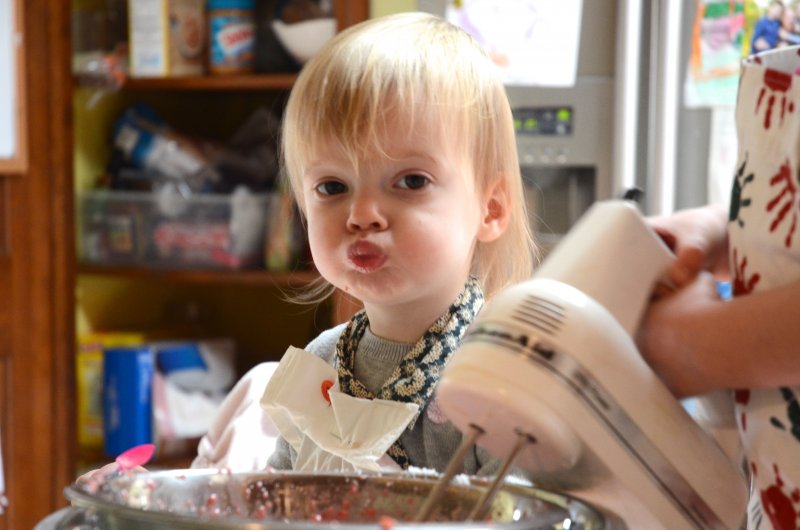 Into the freezer it went. A few bike rides around the court. A game of chase or two. Lunch and a movie. Afternoon finally came and the official taste testing was given to her selfless cousin Elliot. A constant smiler, a gleeful guy, never ill towards a request from a Mini Mack, Rory had the judge wrapped around her finger. The food great! The conversation even better!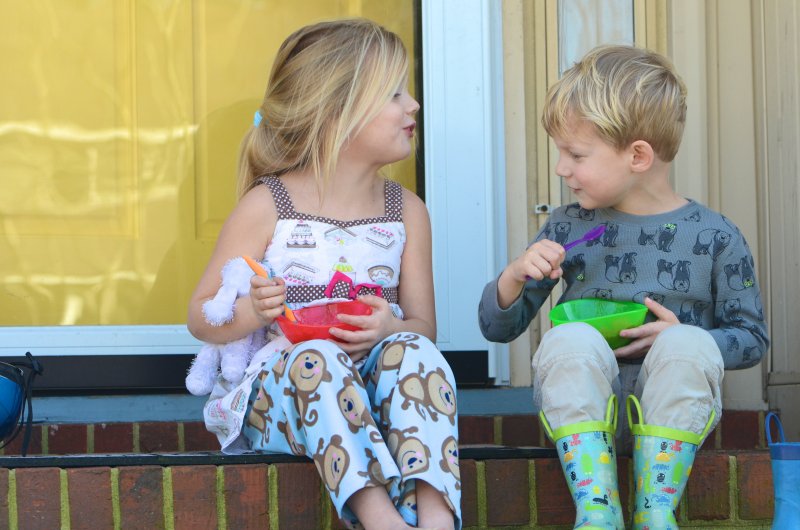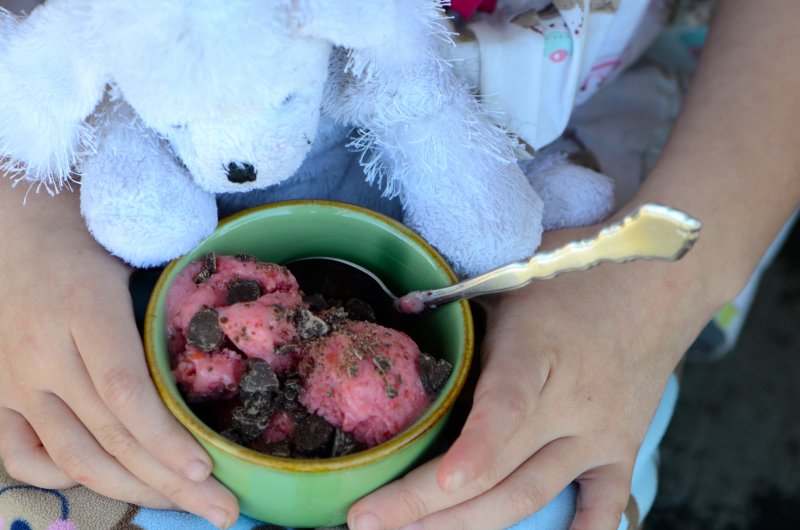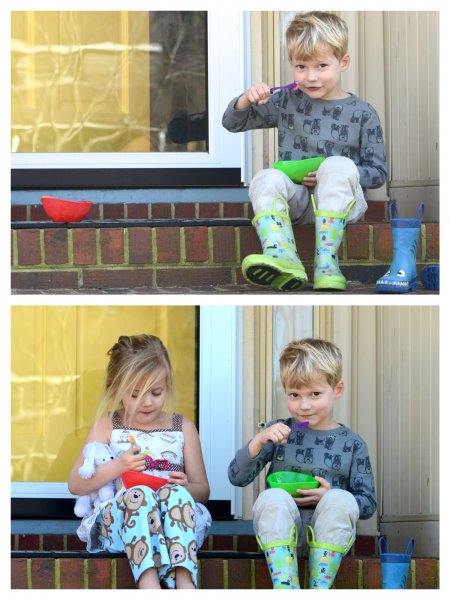 There is no doubt this is just the beginning to many great meals to come. Ryder told me tonight, after a bowl of Parmesan and ham risotto, that I should really let Rory make it next time, it would have probably been even better. Cody laughed, he was the sous chef tonight. Let's just say different styles, different distractions, still produce great results, but they aren't the skills of one Aurora Kent Mack in the kitchen. Cheers Rory-girl! I'll be the sous to your chef any day.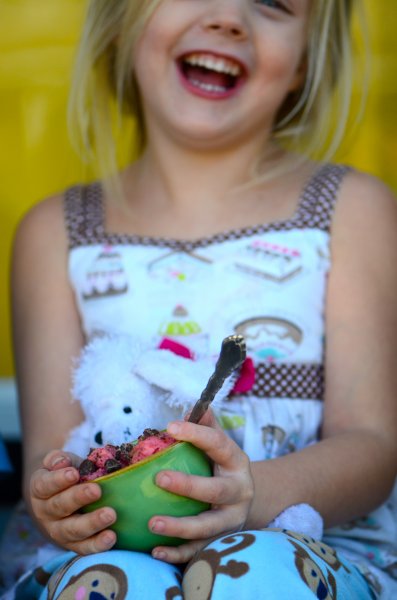 Recipes:
Italian Wedding Soup, borrowed from Gooseberry Patch Classics Soups, Booklet #8, gooseberrypatch.com, adorable straight forward recipes!
1 lb. ground beef
1 lb. ground sausage
4 eggs, divided
1 c. bread crumbs
2 t. dried oregano
1 t. dried rosemary
1 clove garlic, minced
olive oil
2 15 oz. cans chicken broth
5 oz package vermicelli (we used angel hair pasta)
1 c. spinach leaves, torn
1 onion, diced
6 mushrooms, thinly sliced (we omitted this as no one but me likes them)
Combine beef, sausage, 2 eggs, bread crumbs, oregano, rosemary and garlic together; shape into one-inch meatballs. Brown in olive oil; drain and set aside. Bring broth and 2 cups water to a boil in a heavy stockpot; add meatballs, pasta, and spinach. Reduce heat; simmer, uncovered, until pasta is soft. Stir in onion and mushrooms. Lightly beat remaining eggs; drop into soup, stirring until cooked. Remove soup from heat; spoon into serving bowls. Garnish with Parmesan cheese. Serves 10.
Potato Kielbasa Skillet, borrowed from Big Oven app, user Jen815
1 pound red potatoes cubed
2 tbl water
3/4 pound kielbasa (one package) cut into 1/4 slices
1/2 cup onions chopped
1 tbl olive oil
2 tbl brown sugar
2 tbl cider vinegar
2 tbl dijon mustard
1/2 tsp dried thyme
1/4 tsp pepper
4 cups fresh baby spinach
5 strips bacon cooked and crumbled (we skipped this step)
Combine potatoes and water in microwave safe bowl. Cover and cook on high for 4 minutes or until tender. The Mini Macks opted to dice potatoes and onion, line cookie sheet with aluminum foil, toss with salt and olive oil, bake at 400, turning once, until tender (about 25 minutes).
In a large skillet, saute kielbasa and onion (unless your onion is cooking with your potatoes like ours did). Add cooked potatoes and saute 3-5 minutes.
Combine brown sugar, vinegar, mustard, thyme, pepper; stir into skillet. Bring to a boil. Reduce heat and simmer uncovered for 2-3 minutes. Add spinach and bacon. Cook and stir until spinach is wilted. Enjoy!
Homemade Strawberry Frozen Yogurt
We do not have an ice cream maker, so we used this method via the kitchn with a hand mixer: How to Make Ice Cream Without an Ice Cream Machine: An Easy, Foolproof Method
4 cups strawberries sliced
1 lemon, juiced and zested
1 cup sugar (I would do less next time)
2 cups yogurt (I read full fat is best, but local grocery store only had fat free. Dairy manager said it would do fine, but to blend 10 minutes longer)
1 ice cream machine OR hand mixer instructions as linked above
Blend everything in food processor. Follow steps for mixing and freezing from How to Make Ice Cream Without an Ice Cream Machine: An Easy, Foolproof Method
Finally, relax from all that cooking with a sunshiny painting session!