Fischer's, Waffles, Estates and More!
Fischer's, Waffles, Estates and More!
This post is brought to you by Oma!
(The Mini Macks' grandmother and Charity's mom, Sharon Parker). Enjoy!
After a brisk one and a half mile morning walk to Marylebone section of London, our adventure continued at the lovely Viennese restaurant, Fischer's for breakfast. Oh my! The restaurant evokes the style of an informal neighborhood café in Vienna in the early years of the twentieth century with rich woods, glass, and brass décor including white linen tablecloths and formally attired wait staff. It was a feast for the eyes before ever tasting the delectable foods!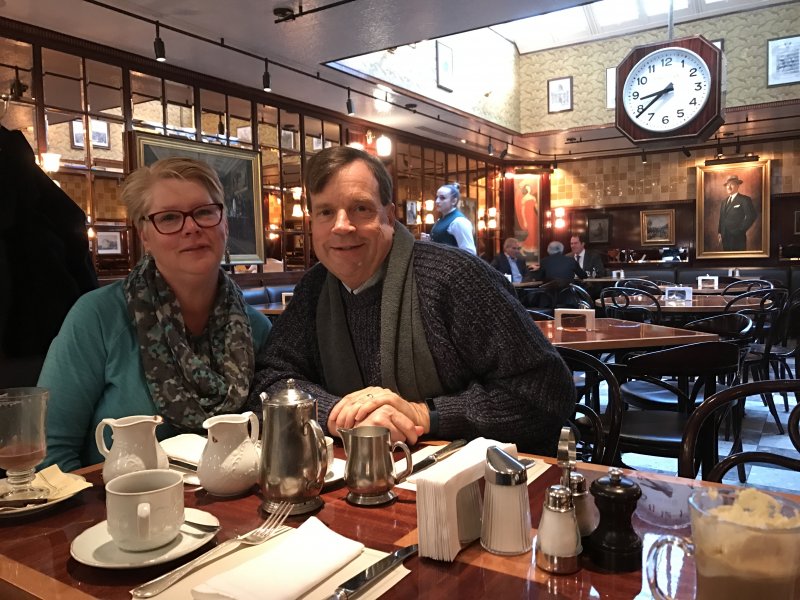 My favorite part of the meal was the hot chocolate. Two small pitchers arrived with hot milk and molten chocolate to be poured into your cup to make a wonderful rich hot chocolate. There were homemade pretzels and all sorts of pastries to be enjoyed with breakfast (I was having pretzel envy watching Chris eat his) along with new and interesting egg, vegetable and potato dishes. It was a lovely, relaxed meal before going to the Sherlock Holmes museum, one of Rodney's trip choices (though we all enjoy Sherlock in it's varied forms.)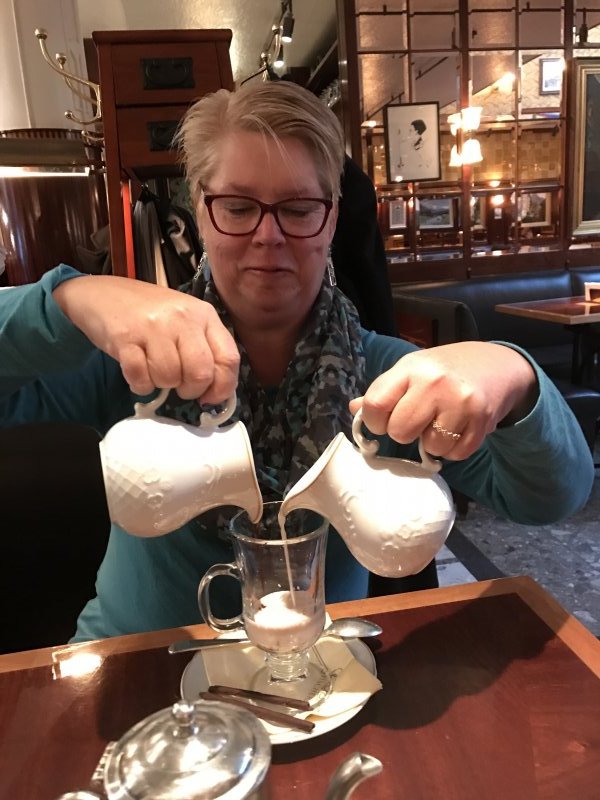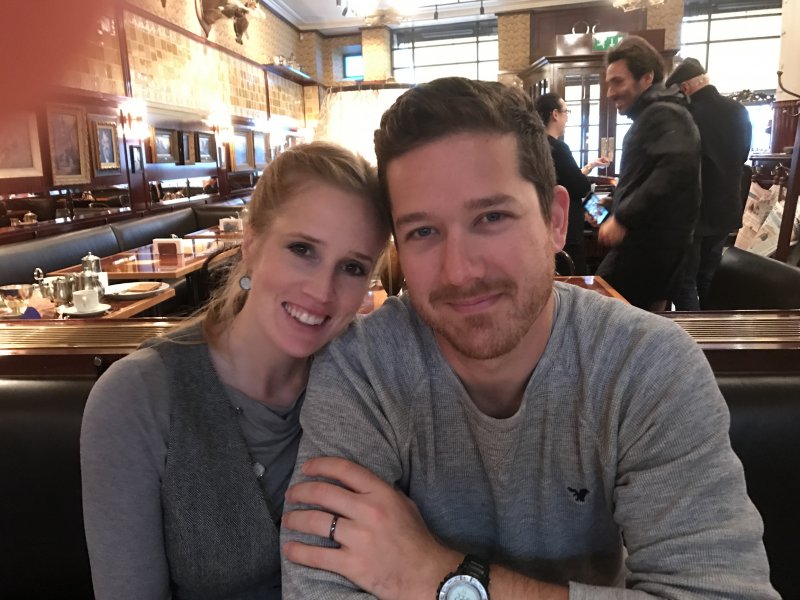 The Sherlock Holmes museum is small but packed with lots of fun artifacts from the different cases that you can pick up and enjoy as props or examine with your great sleuthing abilities. Charity and Rodney enjoyed the role playing and staged some very fine photos. The staff was fun to interact with encouraged us to enjoy our adventure into the world of Sherlock Holmes.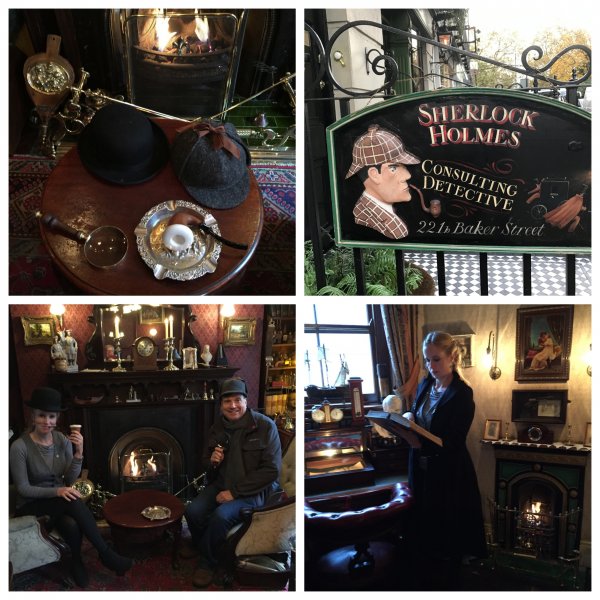 My pick of the day was the George Frederick Handel museum (Handle & Hendrix in London)! I had a grand time reading everything they had and answering questions the docent (guide) asked. She asked if I enjoyed studying Mr. Handel and Rodney answered that I am a music teacher and this has been a dream of my heart to come. That made her very happy.
George Frederic Handel was born in Halle, Germany, and became the court musician to the Elector of Hanover, (very important to work for an important person if you liked eating in those days) but lived most of his adult life in London, the most intellectually exciting place in Europe at that time. He abandoned his post working for the Elector of Hanover after two years when he came to London putting on the opera Rinaldo and became one of the most prolific composers of the Baroque era. Good thing his boss became King George I and forgave his absence when Handel wrote the famous Water Music for the royal party on the Thames for his succession to the throne.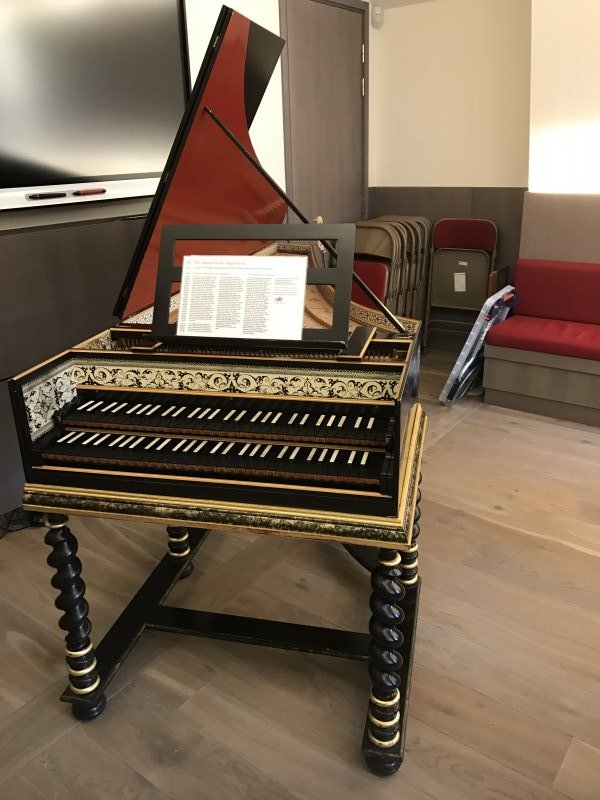 Handel bought the house the museum in located in 30 years before his death and composed many famous works there. My personal favorite is The Messiah. The Messiah tells of the prophesies of the coming of Jesus Christ from the book of Isaiah through Revelations. Handel's librettist, (the person who writes the words) Mr. Jennens, believed it would take Handel over a year to write the music to the scriptures he had given him. Yet Handle composed the Messiah in its entirety in just twenty-four days! It is usually performed as the Christmas and Easter portion as it is two and one half hours in its entirety.
Handel was buried in Westminster Abbey and has a very elaborate gravestone on the wall in the poet's corner. His actual grave is adjacent to Charles Dickens who is Rodney's favorite!
A few centuries later, Jimmy Hendrix, the famous guitarist rented the 3rd floor flat of Handel's house and headquartered there until his untimely death. The museum is now called the Handel/Hendrix museum.
After the museum and a short rest at our flat back in Mayfair, we took the Tube to the City of London for the piece de resistance of the day, eating dinner at Duck and Waffle.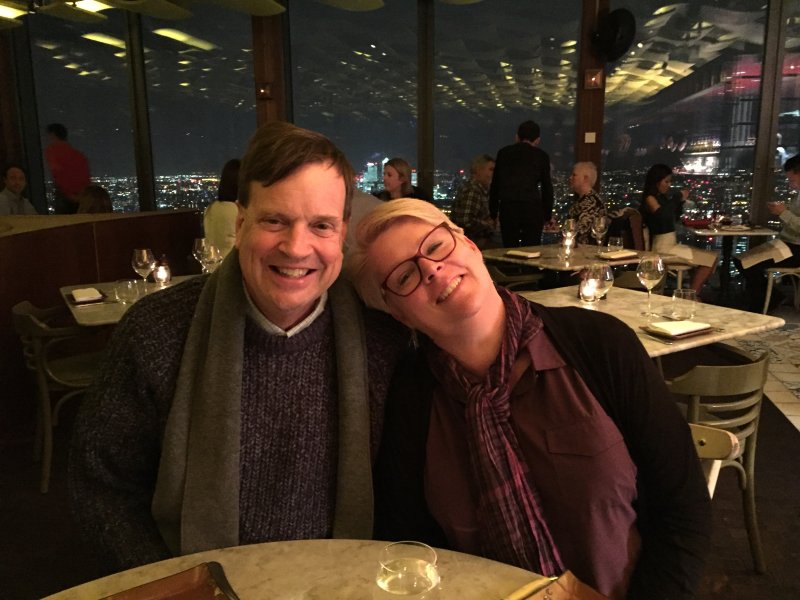 The adventure began as we arrived and were greeted at the ground floor private entrance by security and ushered into one of the two express, double-glassed scenic lifts (that's elevators for us Americans.) The Duck & Waffle is located on the 40th floor of one of London's tallest buildings and provides breathtaking views of the city, especially at night.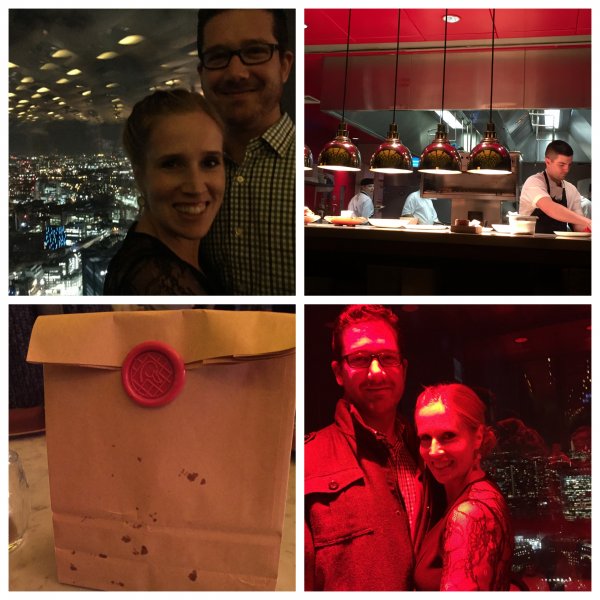 Our table was situated in front of the open kitchen with full view of the skyline as well. It was really fun watching the chefs prepare the food, dance about one another and put the finishing touches as the wait staff came to whisk it away. I didn't realize until researching the restaurant for this article that the person I was smiling at as he prepared the meals was, Dan Doherty, their Chef Director since 2012. (You can see a picture and read about him on the Duck & Waffle website above under meet the Culinary Team Behind Duck & Waffle.)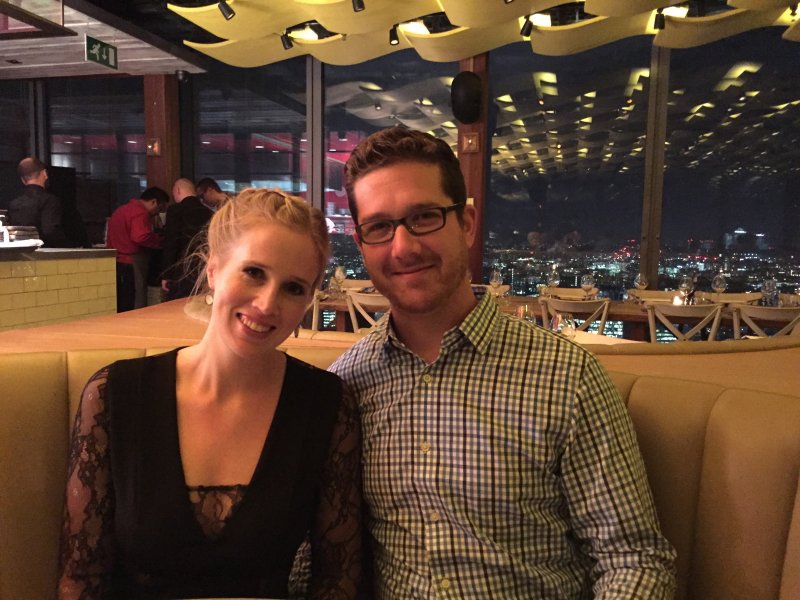 Oh, by the way, he smiled back a few times. I think he enjoyed seeing how excited we were and could probably hear the oohing and ahhing over our food. Some of you may not know that my family was in the food service business for many years so we are serious "foodies." Quality food well prepared with atmosphere and good service is a gift from a chef and staff.
Rodney started our meal with BBQ-Spiced Crispy Pig Ears. Before you say yuck, imagine extremely crispy bacon with a BBQ dry rub cut into bite-sized strips. It was served in a small brown paper bag and they were delicious!
One of the fun aspects of this restaurant is they encourage sharing your meal with your tablemates. Charity ordered the namesake, Duck & Waffle. Rodney ordered Glazed Rabbit and Chris and I shared the 38 day aged Bone in Rib eye for 2. It was a wonderful evening of time together and good food!
This trip to London has been a dream of my heart for 42 years. I didn't know how we were ever going to get there but Rodney and I have talked about his desire to adventure to London since we were dating and it became my dream as well. I am more of a country girl so my dream was of the lovely estates, rolling hills and castle grounds. I always hoped we could meld the two into one nice trip and so we did.
Come early Friday morning it was time to get out of London and see the English countryside!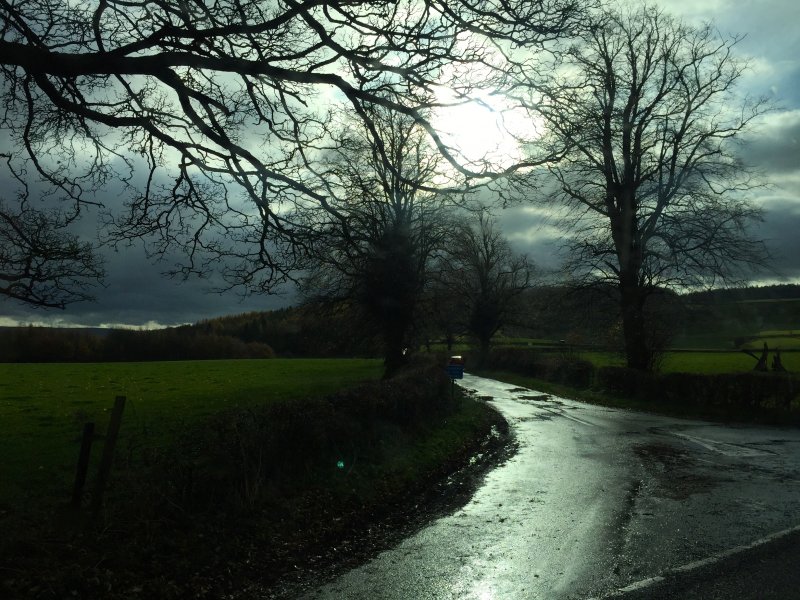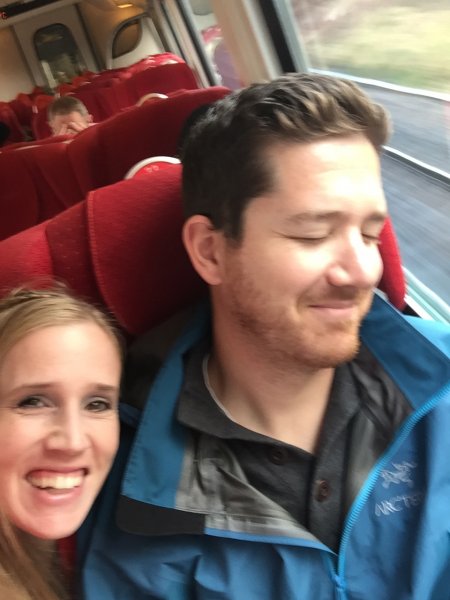 Ah, Chatsworth House. I really wanted to go to Highclere Castle, the filming location for Downton Abbey, but alas, it was closed for the season, so we chose to visit Chatsworth, the filming location for 2005 version of "Pride and Prejudice." Set in Derbyshire, a county in the East Midlands of England. Chatsworth is a magnificent private home and estate open for tours.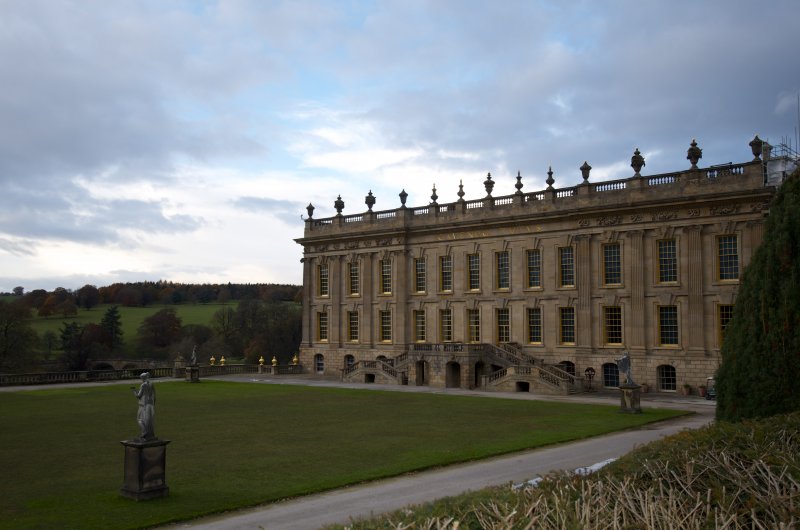 Our day there was blustery and cold (we experienced all forms of weather on our three-hour trip by foot, train, bananas (#PudseyEMT) and bus! Rain, snow, sunshine, and wind) so we didn't get to enjoy the vast grounds so I think another visit is in order.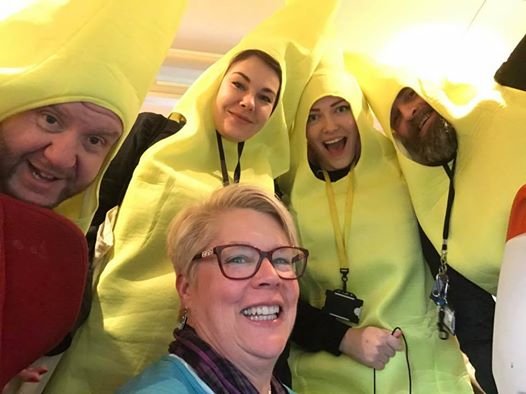 Charity and I made reservations for tea in the renovated stables of Chatsworth (Pemberley, for you Pride and Prej fans…) and were ensconced in fine china, silver and lovely epicurean delights.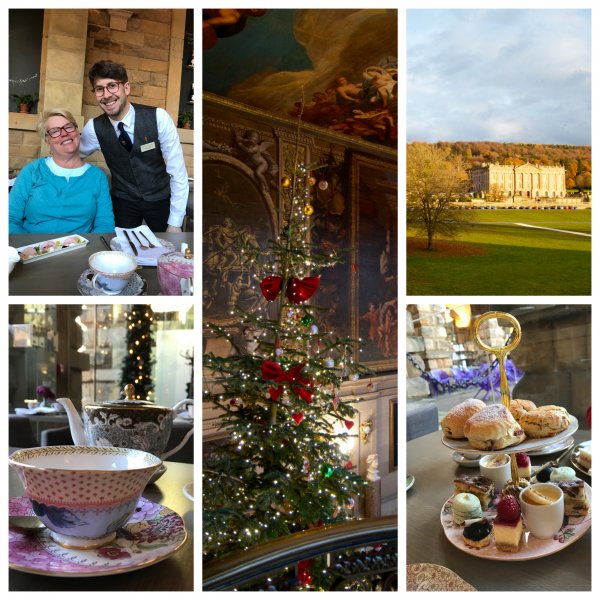 Rodney and Chris visited the Christmas market and sampled more of the village type foods and wares while they waited for us. On our walk back to the bus we saw the lawn service (sheep) and reindeer (really.)
On the bus ride back to train we had lively conversations with a group of boys on their way home from school. They had questions about the American political process, as well as did we know any movie stars (and yes, we do and some have stayed in our home.) After about 30 minutes of intense grilling and maneuvering through accents (on both sides) the boys departed and we were given a hardy "well done!" from the ladies across the aisle. Then they wanted to talk and the return trip seemed much shorter. God appointments are always the best.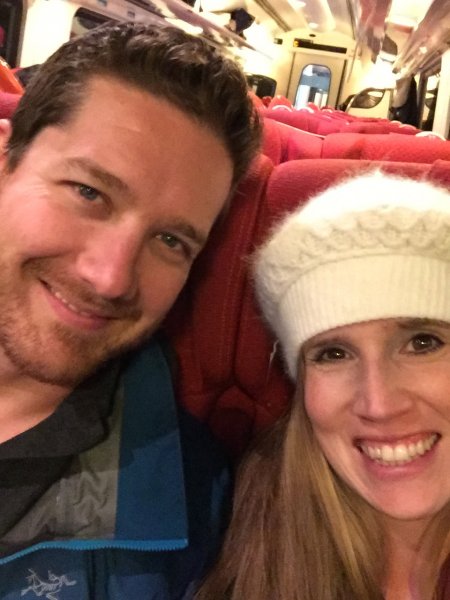 As we walked back to our flat I saw an interesting quote on the clock outside of the Liberty departments store:
"No minute gone comes ever back again. Take heed and see ye nothing do in vain."
Good advice. I know we enjoyed our minutes well in England and though the time gone, it is enjoyable to revisit them through words and pictures!
P.S. Thank you to Felicity's family for meeting us for dinner Saturday night before we left Sunday morning. What fun it was! Thank you Hannah for securing the table and ensuring everything was top notch. The royal treatment for sure! With many thanks!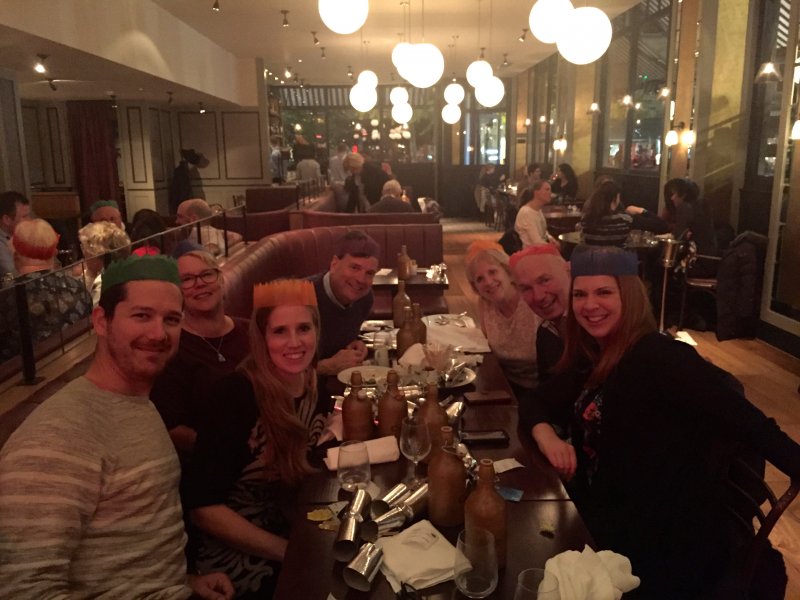 P.P.S. We walked tons! It was a blast! Should our dear readers like to follow our footsteps here is the itinerary in a printable snapshot.