Pea Soup, a.k.a. Hulk Stew
Pea Soup, a.k.a. Hulk Stew
Hearty. Gorgeous green. Ryder thought it "disgusting looking" until I called it Hulk Stew. Then it became "delicious". Don't knock it until you try it. Yes, it looks like something off the Shrek swamp menu, but it is oh so tasty and is nearly as easy as these guys make it look! A 30 minute soup that taste like you prepared it for hours.
3 tablespoons extra virgin olive oil
pinch of salt
1 large onion diced
2 large carrots chopped
3 garlic cloves minced
1lb hot sausage or cubed ham
16 oz/1 bag of dried split peas
4 cups of chicken broth
1-2 cup of water (optional)
Bring to boil. Simmer 30 minutes stirring once between. Serve with a chunk of bread.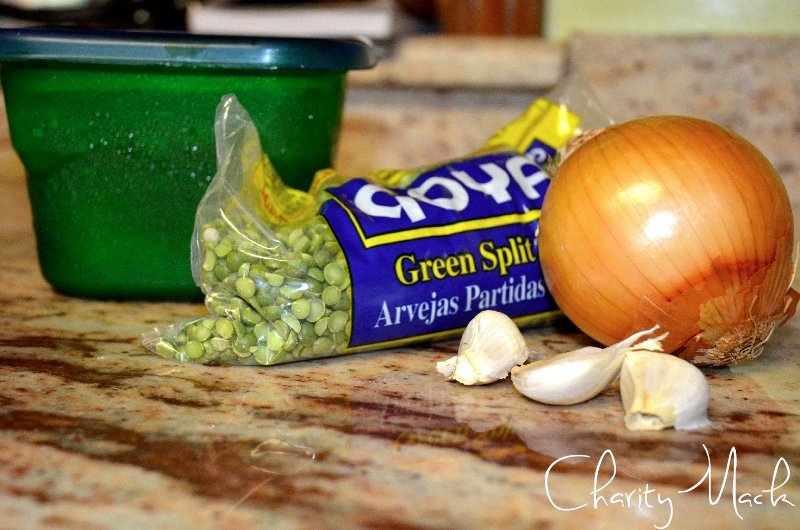 Gather your ingredients. In this version I used cubed ham (baked a ham last month, froze part of it). Begin heating your olive oil in a medium sized pot. I used a dutch oven as they are great pots to allow an even reduction of the soup. Dice a large onion and chop two large peeled carrots. Throw into heated oil, add a pinch of salt, and sweat veggies until tender.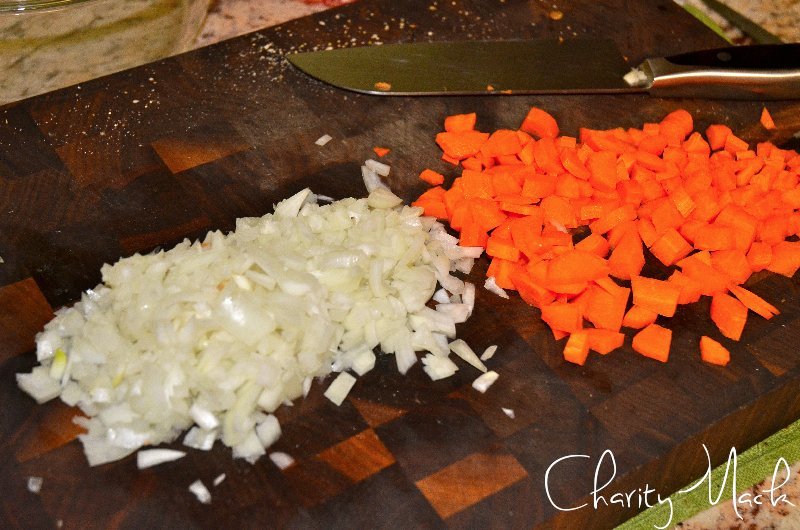 In the meantime, cube your ham or open package of ground hot sausage. Either is great in this recipe. I prefer the texture of the ham over the texture of the sausage though. I haven't tried omitting meat completely. Skeptical it would have the same hearty flavor. Put meat in with onion and carrots. Soon after mince the garlic and add it as well. The reason we don't put the garlic in with the first two veggies is that garlic tends to burn. Cook for about 5-7 minutes or until the meat looks fully warmed.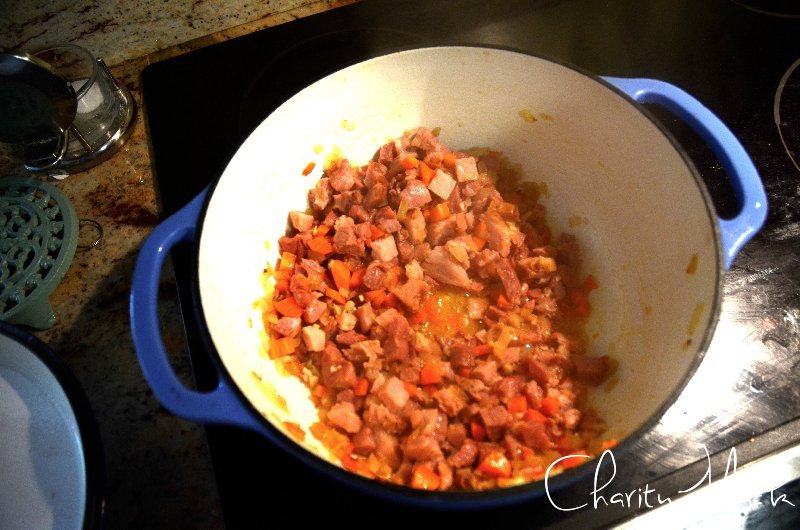 Rinse, drain, and add in dried peas. Then add four cups of chicken stock. It should cover the peas. I used chicken stock I froze from boiling a chicken last week. But the boxed type works great too. Add a pinch of salt if you think your chicken stock doesn't have enough. Although do remember ham is salty, so go easy if you are using ham in your soup.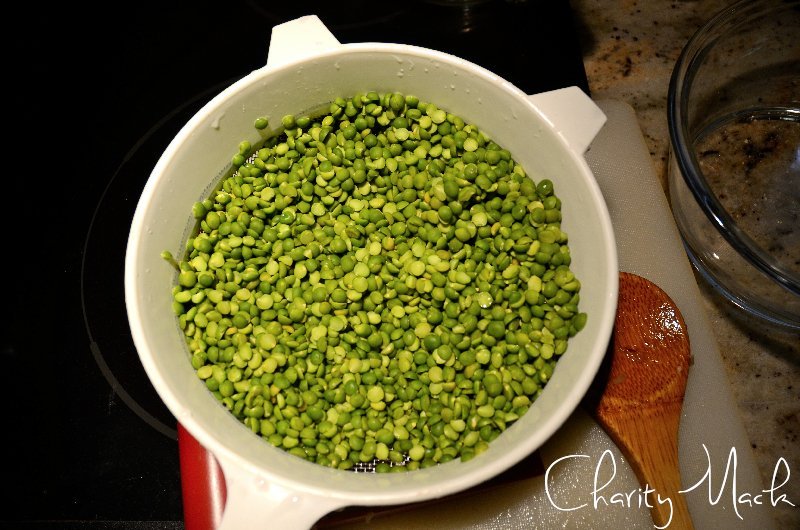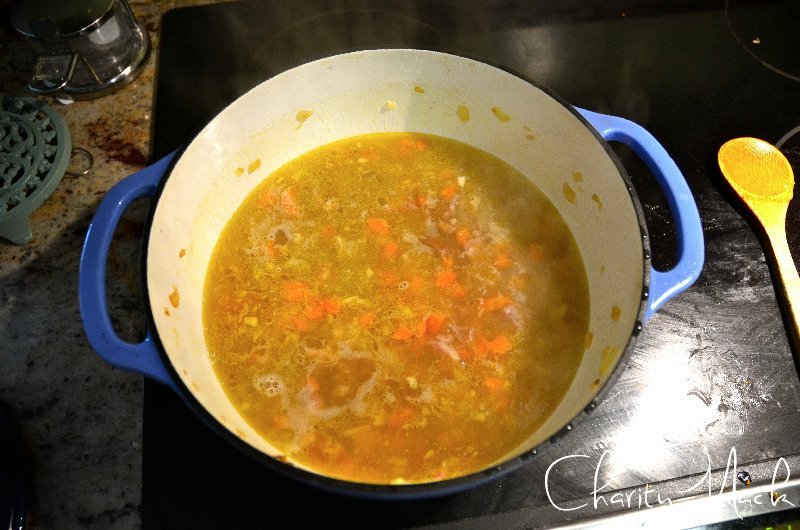 Cover. Bring to boil. Once boiling, give it a stir, turn heat to medium/medium low for a simmer. Cover. Leave for 15 minutes.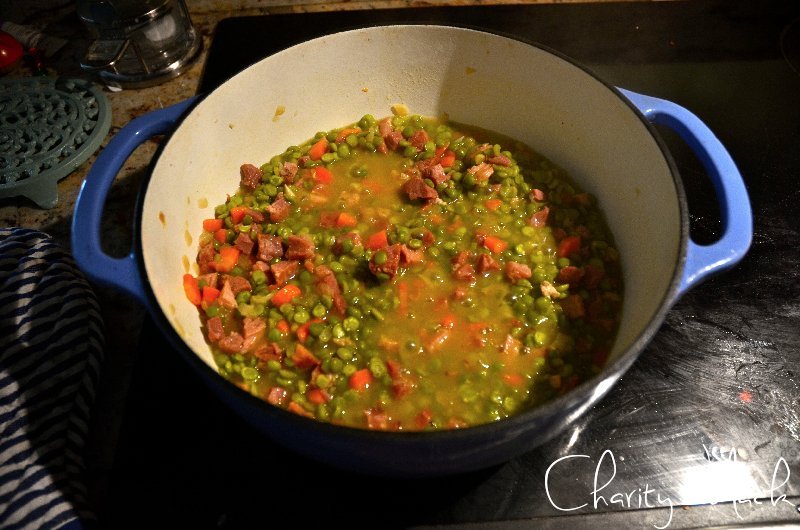 After 15 minutes, give it a good stir being sure nothing is sticking. If it looks like it has reduced too far (looks like the beans aren't anywhere near cooked but there isn't a lot of liquid left in the pot) then add a cup or two of water. Pinch of salt and pepper if you desire. Cover and simmer for another 15 minutes or less.
Give it a good stir. At this point I usually blend it for 10-15 seconds to make it smoother (plus, immersion blender Christmas presents are super fun, especially when they are pink).
That should do it! Serve with hot sauce, cheese, or a chunk of bread. Enjoy!